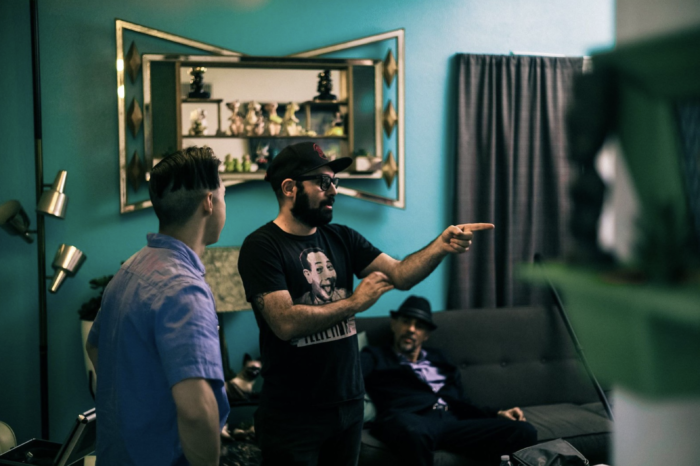 My name is Shahab Zargari, and I am an Iranian-American filmmaker, record label-owner, and musician who currently resides in Las Vegas, Nevada.
In my films, I seek to tell stories concerning the human condition, often dealing with themes of race, politics, and morality, as well as the superficial misconceptions that often arise from such topics. I enjoy exploring human nature in a way that ultimately reveals more about the characters than the audience is initially allowed to see, and enjoy surprising viewers with unpredictable resolutions to what appear to be straightforward plots.
Furthermore, I try to ensure that my projects employ a diverse cast and crew. I feel this is very important because historically in the United States, filmmaking has not been accessible to people of different ethnicities, and I want to provide opportunities many did not have in the past.
My directorial debut, The Crystal Crypt (2013), is an ambitious mixed-medium presentation of the Philip K. Dick short story of the same name wherein denizens of Earth and Mars are on the brink of war. The film features combined elements of live action, computer-generated imagery, and 2D animation. Thematically, the film explores the notion that, as children, we are taught not to "judge a book by its cover," and yet those in power also tell us to "say something if we see something." Of course, it can be impossible to tell a terrorist apart from any other human being. In The Crystal Crypt, the viewers are led to believe they know exactly who are the good guys and who are bad; however, such assumptions quickly erode as the good vs. evil dynamic falls into a nebulous gray area. The Crystal Crypt was an official selection at San Diego Comic-Con International 2016. https://thinkspeak.org/the-crystal-crypt/
Susannah's Lesson (2014) is a short film based on characters in Stephen King's The Dark Tower series. It features a strong student-teacher dynamic, as well as a blunt presentation of the main character confronting her past — namely how she was treated by the racist citizens of New York City of the 1960s, and how that treatment continues to affect her. https://thinkspeak.org/susannahs-lesson/
My Name is Art (2018), my most recent film, features a diverse cast and crew, including the three main actors who are of Filipino, Mexican, and French-Moroccan descent. This story centers on the moral ambiguity of artificial intelligence: should we view technological marvels as unthinking code, or should we treat them as forms of life capable of memory, feeling, and death? Such themes have been explored previously by films such as Ex Machina and Blade Runner. https://thinkspeak.org/my-name-is-art/
My films tend to gravitate toward the science-fiction genre, as I feel it allows me to analyze modern-day social issues through a unique lens. I feel that if I can get viewers to think critically about such issues, I might be a part of those who inspire the next generation to fight to make the world a better place.
Generally, I spend approximately a year to produce each of my short films. This is largely due to budgetary constraints and the need to do things on my own time.
At present, I am taking my new short film, Oh, the Guilt, on the road through the film festival circuit. It is a coming-of-age story set in the 1990s featuring a Persian-American as the main character. The plot tackles death, loss, and survivor's guilt, elements of the human condition that transcend age, race, and creed.
The main character is played by my daughter, who was 16 at the time of shooting. As this is the exact age of the protagonist, I felt this would lend authenticity to both the character and the story. I have been directing my daughter in small productions since she was preschool age, and I am very confident in our ability to work together comfortably to achieve an excellent performance.
Save one very brief cameo, the entire cast as well as the screenwriter and musical score composer, are female. This includes not just my oldest daughter but also my wife, who will play the role of the protagonist's mother (this mother/daughter combo had the first speaking lines in The Crystal Crypt). https://thinkspeak.org/oh-the-guilt/